Why is there an environmental label?
Global warming problems Air pollution problems Soil pollution problems Solid waste problems and water pollution problems are big problems in the interest of the international community because they affect rapid natural changes. Actions to push and promote nature conservation by environmental labelling (Environmental Labels) to demonstrate to consumers that goods and services are offered to consumers through the manufacturing process or by using materials with low environmental impact Environmental labels are a system of disclosure and certification of performance information. The environment of goods and services is the action of showing responsibility for the environment. It is a matter of voluntary and entrepreneurial awareness toward society and the environment.
At present, entrepreneurs and consumers around the world pay more attention to reducing pollution problems that negatively affect nature and the environment. Both the public and private sectors turn to push by offering environmental standards to certify and attach labels for entrepreneurs to consider choosing to use with products to inform consumers.
An "environmental label" is a symbolic mark used to promote environmental conservation. and to show that it is a product that has less environmental impact compared to other products that perform the same function. Which is the concept of sustainable development in the form of voluntary to stimulate consumer consciousness to change their consumption behaviour and put pressure on the producers to improve the quality of goods and services in technology, taking into account the impact on the environment as an important It's also a way for consumers to decide how much they want to contribute to protecting the environment.
Reference: https://www.ryt9.com/s/expd/1257493
1st brand & corporation in Thailand
to use Milliken's energy-saving, UL Green Label.
In the group of plastic food storage containers that use PP plastic by UL Environment, USA. Each product has to undergo examination before receiving this symbol. When we use Food storage containers with this symbol. How will it be environmentally friendly? And what can help reduce it? Click to watch the video.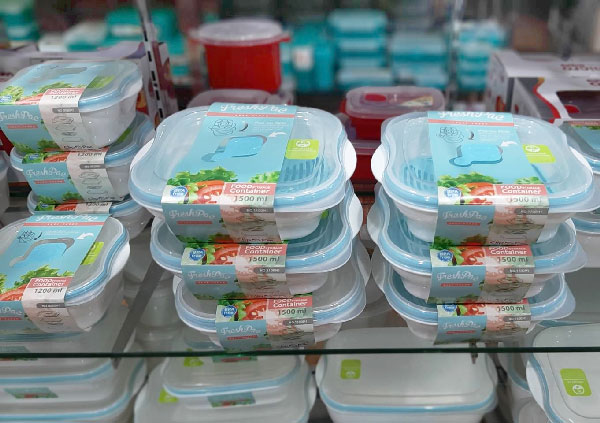 Clip Pac Food Containers are made from PP or Polypropylene plastic with the label No. 5 and BPA Free. The label No. 5 means they are safe for storing food. What sets them apart from other food containers is the "Eco-friendly" UL Green Label. This Symbol is certified by UL Environment, USA. and has also been certified by TUV Rheinland Germany.
Save energy, save the world and the environment
by Picnic Plast Industrial Co.,Ltd.